About Jake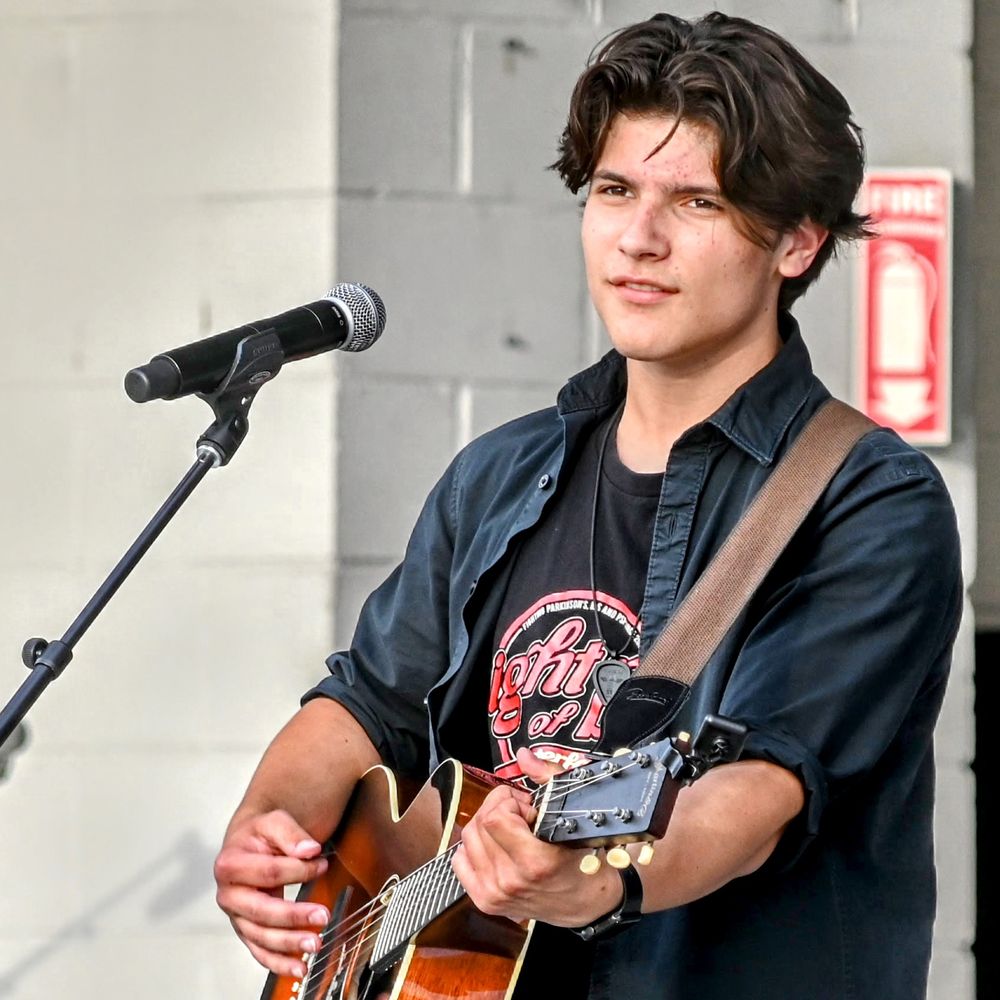 Jake Thistle
Musician, Singer, Songwriter
Based in New Jersey, singer/songwriter Jake Thistle has been entertaining audiences for years.
Jake, now 18, has been hired to perform in Europe and across the US, and for crowds of thousands at major music events. Along the way, Jake has personally raised over $100,000 for a variety of charitable organizations through an extensive range of fundraising performances.
Jake has been featured on CBS News, Variety, Billboard, American Songwriter Magazine, BBC Radio, The Record, WCBS FM, NYC's Q104.3 FM, Norman's Rare Guitars, All Guitar Network, and many other news outlets; he has played with legends like John Hiatt, Lou Pallo (Les Paul), Ron Blair and Steve Ferrone (Tom Petty and the Heartbreakers), Jim Keltner (Traveling Wilburys, Bob Dylan), Earl Slick (David Bowie/John Lennon), Jesse Malin, Carmen Vandeberg (Jeff Beck), Severo (The Smithereens), Roy Orbison Jr, Chris Stills, Jeff Slate (Rolling Stone) and many, many other great musicians. He's been on bills with the likes of Jackson Browne, Stevie Nicks, Foo Fighters, Eddie Vedder, Roger McGuinn, Steve Earle, Tom Morello and many other Hall Of Fame musicians. Along the way, Jake has picked the musical brains of rock royalty, such as Tom Petty and the Heartbreakers, Steve Winwood and many other influential artists.
You can learn more about Jake and his upcoming gigs and charity events on Facebook; and find him on Instagram, and YouTube.
What People are saying....
In the words of people who have hired or played with Jake....
Testimonials
"With his thoughtful, introspective lyrics and controlled stage presence, Jake Thistle is poised to lead the much-needed revival of classic '70s singer/songwriters. And in a few months, he'll get his driver's license. At sixteen years old, Thistle's music oozes an authenticity and depth that should make modern folk legends like Jason Isbell and Jeff Tweedy smile. His vocals, delivered with sincerity and just the right amount of rasp, recall early Jackson Browne, John Hiatt, Steve Forbert and Tom Petty." -American Songwriter magazine
"Jake Thistle is a star of the future, today. His stage presence, vocal abilities, and superb guitar and keyboard skills put him in league with the best in the business. At a time when most kids are working at local retail shops, Jake has carved a path for himself as a true road warrior; a musician worthy of your attention, and one to keep an eye on, for sure." -Jeff Slate, songwriter/Music journalist (Rolling Stone, Esquire, and other major publications)
"We continue to have Jake back as a musical guest on our show because he consistently "wows" us and our audience with his amazing talents on the mic and with his instruments!  We have had hundreds of musical guests on the show and Jake is one of our top 3 performers! He's talented beyond his years and we'll continue to have him on as one of our most beloved entertainers!" -Scott Stanford, Emmy-winner and Host of the Suki and Scott Show
"Having been a huge fan of Jake's music, as a promoter I knew I would jump at the first chance I had to get him to California for one of my shows! I was able to hire him to be a part of my second annual All-Star Tom Petty birthday celebration. Not only was Jake extremely professional, he was extremely seasoned and no doubt taking the lead; front and center stage is a comfortable place for him. Jake is a shining star with a super star future. I'm looking forward to any opportunity to book him again!" -Rockin Robin Promotions
"Over the past year Jake Thistle has performed three benefit events hosted via my company, Asbury Sunset Presents, founded to bring live and streamed music to appreciative audiences benefitting local charities during the pandemic. The level of skill and professionalism Jake brings to everything he does is exceptional. Thoughtful and well prepared, with a willingness to assist every other performer on a bill, Jake has earned his reputation as a stand up, go to guy whose polished skills exceed his years. And his music, it's amazing! Jake is a human jukebox, throw a request at him and he nails it, stunning and impressing audiences. Every time I've been fortunate to work with Jake it's at a new level. Now with his own material from his first LP "Down the Line" Jake is on an early path to echo classic singer-songwriters like John Prine, Jackson Brown and John Hiatt. Recommend him? We're lucky to have Jake make time for us, as this is a young man on a deserved fast track straight ahead!"  -Tim Cabrey, Founder of Asbury Sunset Presents
"There is no mistaking the passion Jake has for music, you hear it in every note he sings. I started following his music several years ago and two years ago I brought him to the city of Easton for the first time and the city fell in love with him immediately! He is modest, kind and professional. His enthusiasm on stage comes through time and time again as he makes each song his own and watching him come into his own with his originals has been amazing. He will always have a place on my stage. Years from now I will be saying 'I remember him when....'" -Marcy McKinney, Organizer, PA BaconFest
"A mutual friend mentioned Jake Thistle to me when I was in Asbury Park for Light of Day. Then one day during the COVID lockdown, I happened upon one of his Live Streams. Not only was I impressed with the viewership for his stream, but I was blown away by his musicianship and his voice. It was like I was watching a seasoned, 40 year old, music veteran. Not to mention his stage presence and the fact that he seemingly can play any song requested! And then I found out he was just 16! I recently had Jake perform originals on an online songwriters show for Light of Day Canada and as expected, the viewers were incredibly impressed with his performance and songs, as was I. But I think what impressed me the most for such a young man, was his preparation for the show. He was committed to making sure his audio and video were top notch for the show and was willing to do several dry-runs to ensure he was comfortable with our platform. His professionalism was as impressive as his talent" -Dave Rotella; President, Light Of Day Canada
"Jake joined our speaker line up and volunteered to share his personal story of following his passion in life – music. He also graciously performed several songs, even requests. The 8th grade students he met with were blown away by his talent and his passion. They were inspired by Jake's positive attitude and by his courage to follow his dreams at such a young age. I told them to remember this day, because they will look back on it when Jake's passion becomes his career." - Danielle Heuer, Every Voice Educates
"We've Seen the Future of Rock and Roll, And His Name Is Jake Thistle!! Jake is a man in a boy's body. Way beyond his years. His talent is simply astonishing. We had Jake play our last two Spring-Nut Seaside Serenades in Asbury Park and he consistently blows the roof off the joint every time. His appreciation and dedication to his craft and to Rock and Roll is something to be admired. Extremely humble, mature, knowledgeable and absolutely gifted; it's comforting to know that someone like Jake can carry the torch of Rock and Roll into the next era! We love ya Jake!!" -Howie Chaz Julie Chaz and Amy Kalman, Spring-Nuts Seaside Serenade organizers
"The City of Gainesville, Florida hired Jake to perform a virtual concert for the "Gainesville LIVE!" digital concert series. We had been impressed with Jake since his performance at the Tom Petty Birthday Bash in 2018. Hiring Jake was easy--we were looking for talent that would appeal across the board to our fans and we were looking for talent that could transition to a virtual format. Jake was the ideal person! His professionalism is as big as his talent. He was accessible, friendly and eager to work with us on putting his show together. Any request for info or marketing materials was met with immediacy and made our work producing the show simple. And then we have Jake's talent. He is the voice of the future. His is the voice you will hear in years to come--like Petty, Springsteen, Mellencamp and others Jake belongs to a rare group of talent that you know will make it big because of the heart and soul flowing through his original music and his arrangements of rock classics. Our audience couldn't have been more delighted as Jake performed far more than expected. His catalogue of 700 songs left no stone unturned. We are enormous fans of Jake and look forward to working with him again soon. He was our largest draw and he will always be welcome in Gainesville!" -Suzanna Mars, City of Gainesville Cultural Affairs
"Jake Thistle is much more than a fresh face on the Live music scene. I have been running Live Music venues in Manhattan with local, National and International acts for over 20 years and a truly new addition only comes along in a blue moon. Jake is definitely "backlit" by a great big Blue Moon. Make the time to find and listen to Jake. He is only beginning to show us what he can do." -Larry Cerrone, Music professional and owner My Cousin Vinny's
"I have had the pleasure of meeting and performing with Jake. Right away I saw the professionalism in this young talented musician, so I knew when I asked him to cover a gig for me, he would be able to handle it, even at his young age. And he did an outstanding job. It has been an honor and a privilege watching him develop into a true professional and above all, he is the nicest young man I have had the pleasure of getting to know." -Lou Pallo, legendary guitarist and member of Les Paul's Trio
"I met Jake at my bar when he came to play with the legendary Lou Pallo. When Jake got on stage, there was obvious unspoken communication in the eyes and hands of these Two musicians was unmistakable and captivating. Jake was a sponge, learning from a great-- but also very confident and bold fingered. And the sound that came out was eloquent guitar blending, trading back-and-forth with the master… with Jake fronting the all-out ensemble! His knowledge, his phrasing of all-time classics… to newer tunes just delivers!! I've been watching and listening a lot all these years of music venue ownership, and if this is not bonafide talent, and grace then I've never seen it! I am very proud to have been a witness to and one of the vehicles in the development of this talent! -Tim McAllister, Owner of Jigg's Corner Music Saloon
"Jake Thistle is a star on the horizon. He has SO much passion for the music he sings, and besides that he is a great, and kind person. He's gonna be the best one day!! From my Heart."  -Jon Scott, author of Tom Petty and Me (and the man Tom credited with launching the Heartbreakers)
"Jake is one of the most enthusiastic, energetic and professional musicians I've ever worked with. He absolutely lit the stage at the Tom Petty birthday bash in Gainesville. He has a vast knowledge of music and is incredibly versatile and talented. It's been exciting to watch his music career blossom!" -Jason Hedges, Music professional/Event organizer
"I had the great pleasure to interview Jake for my podcast after becoming a fan of his covers, although I believe that "interpretations" is a far better word. Jake doesn't just recite the words over the top of the right chords, he digs deep into the heart of those songs and does it better than anyone else on the planet. His ability as a songwriter in his own right and his genuine humility however is what impresses me most. At a young age, he has already developed an ability to write about serious subjects with a lightness of touch that most artists spend years honing and is constantly working to improve every facet of his craft. He also has one the best and most consistent voices I've heard in probably 20 years and is only getting better every time I listen to him. With all these qualities to call on, coupled with opportunities in his early career that many would envy, you could expect him to have a justifiable chip on his shoulder. Nothing could be further from the truth and, like the artists he admires most, his self-belief is not clouded by arrogance. His warmth and generosity of personality shone through during our conversation and completes the portrait of a fascinatingly well-rounded musician and person. Jake is exactly what modern music needs at the moment; an artist with an uncompromising focus on writing songs that have authentic soul as well as a great melody. In his song Goodbye to the End of the World, Jake sings "It'd be fun to see my name lit across on some big marquee". Rest assured, it is only a matter of time before this happens and I'll be the first one in line to buy a ticket." -Kevin Brown (host of The Tom Petty Project) 
"We created PettyPalooza to celebrate the music of Tom Petty and the Heartbreakers. In 2019, we were fortunate to have Jake join our band Learning to Fly on stage. Jake's encyclopedic knowledge of the songs and passionate guitar and vocals really made our event. Jake proved himself a professional way beyond his years, and is very easy to work with. His enthusiastic support for the event's charitable component the Connecticut Humane Society was also a big help. We recommend Jake's services without hesitation, and hope to have him back for future shows." -Mike Stryker, Event organizer; Vocals and guitar, Learning to Fly
"'He's that young?!' is the frequent comment made about Jake Thistle from people enjoying his shows when he performs as the top headliner as part of our Kilwins Concert Series. His talent with the guitar (love his solos!), piano, harmonica, and great singing voice has made him a fan favorite here. No surprise to us. We first heard Jake playing at an Art Show when he was only 11. We quickly introduced ourselves and hired him on the spot to perform for us every weekend. Even then we were amazed at how mature and knowledgeable he was about the music he played. The love and passion he had for it was evident. If someone could combine the body of a young kid with the heart of an old musical soul, the outcome would be Jake Thistle. We have had the pleasure of watching him grow not only in age but into a gifted musical artist. His appreciation and respect for rock and his craft are inspiring to watch and he has developed a following amongst other young artists. With all this, he remains as he was when we first met him-- an incredibly nice, funny young man who shows up for every performance with absolute professionalism in giving his all to those who come to watch him play. We have no doubt that he has a great future ahead of him." -Philip Davis and Mary Cunningham-Davis, Owners of Kilwins, Ridgewood, NJ
"Jake is a talented musician who really made my book launch party even more special.  The music he recommended for the event was perfect for my event. He is a true professional. Everyone raved about him and the music he played.  The event was very successful and Jake was an important component in creating a fun and happy environment. Jake has a special energy that lights up the stage and room!" -Mary Bottaglia, author, Transformation Through Hypnosis.
"Music isn't something you just decide to pick up one day - it's something you're born with and man oh man Jake was born with a gift. I've watched and listened through the years as Jake has matured in his voice and his talents and he has yet to slow down...and I doubt he ever will. It never ceases to amaze me that he can bust out classic rock-- guitar in-hand and harmonica around his neck-- with the same intensity and passion as the artists who wrote the song in the first place. I look forward to what's to come for Jake! -Leon Grassi, Committee Chair for American Cancer Society's North Jersey Golf Classic
 "Jake Thistle is a phenomenal young musician. His range of material is extensive and he never has to rely on a song list – it's all in his memory bank!  Our concert-goers loved his set. I just hope we can get Jake back before fame and fortune takes him to bigger concert venues!!" -Bill Foelsch, Morris Township (NJ) Summer Concert Series
"Jake performs for the American Cancer Society every year and our guests absolutely LOVE his music! I always have people coming up to me after the event expressing their amazement at Jake's performing abilities. We are so grateful for his support of our mission to lead the fight for a world without cancer!" -Carolyn Lanza, American Cancer Society
"We had the pleasure of working with Jake when he came to perform for our fundraising group in England. Although he was only a young man, he had the professionalism and skill of someone far older.  He was a delight to work with, flexible in his approach and happy to help in any way he could. He is a talented musician who entertained our group both as a solo performer and in duet with a fellow musician. We consider ourselves fortunate to have seen Jake at the beginning of what is certain to be a long and successful career!"  -Pauline & Steven, event organizers: E Street Fans
"We met Jake when he was 12! As soon as we heard him play, you knew he was going to be special. Not only did he pull off rock-solid renditions of classic tunes, he also played some of his originals, which knocked us out. Fast forward a few years: Jake has gained momentum as a songwriter and guitarist. My band and I always have a blast playing with him. Even at this young age, a total pro. Jake is passionate about his craft, and, in my opinion, will be at the forefront of a new generation of gifted songwriters." -Michael Zuko, long-time professional musician
"Jake Thistle was our entertainment in the Village of Ridgewood's famous July 4th parade. He was a rock star-- the parade route was long and hot, with about 40,000 people singing his songs along the way.  He saved the day with his music and personality. He also was our entertainment for the Chamber's Annual Car Show. The car show attracts 400 cars and 5,000 people…Jake had them all singing and dancing in the street." -Joan Groome, Ridgewood Chamber of Commerce
"Hard to come up with the words to express my gratitude to Jake Thistle for performing at my party. I knew the music was going to be the centerpiece of the event. The communication on picking a set and moving my party indoors last minute couldn't have been easier. I really enjoyed coming up with a setlist of songs I wanted to hear-- and Jake knew almost all of them. Oh yeah-- the best part is when he performs. It's amazing how talented this kid is.  He even played his awesome original song "Hometown" He's so appreciative and respectful. Thanks Jake!!" -Mark Haft, private event organizer
"We are professional musicians working in the business for more than 40 years, having worked with Les Paul, Bucky Pizzarelli, Al Caiola, Frank Kreisel, Lou Pallo and many others-- and we could tell immediately Jake was great. Jake is a true professional, extremely poised and mature. He played his parts like a person far older than his years, always respectful of everyone's time in the studio. Since then he has developed into a superstar with many fans and followers from around the world. He is not just a great guitarist and singer but a terrific songwriter as well. Jake sings with such heart and soul and his originals are wonderful. He is a no-nonsense young man who organizes his business flawlessly. You can count on Jake to be completely prepared and on time for every show. Jake is multi-talented, courteous and respectful but most of all a magnificent performer. Whenever I get to work with him at a show inevitably people come up to me and say, 'Do you know him? He is fantastic!'  If you are looking for an amazing act for any event look no further. You found the best with Jake Thistle." -Pamm Wahlberg & Steve Lucas, music professionals
"I was lucky enough to be at the 2018 Tom Petty Birthday Bash in Gainesville, Fl. Jake's talents blew me away, and it was an honor to see him live. After watching more of Jake's music, I asked if he'd play my private event. It was a ten hour round trip for Jake, but we made special arrangements—and he agreed! It was a wonderful day for us, and I am happy that Jake made the event special. Jake took the time to listen to a song I had mentioned to play. We-- and the writers of the song-- could not have been happier with Jake's version of the song She Lights It Up. My wife and I hope to see Jake as many times as possible through a wonderful career ahead of him!" -Dave Palmer, Event Organizer